Auto Discovery
Monitoring large environments could be a nightmare without automation. Zabbix provides several ways of automating the management of such environments. Devices and elements of devices, such as file systems and network interfaces, can be added and removed automatically as they come and leave an organization.
There are 3 main approaches to automatic discovery and management of environment elements within Zabbix: network discovery, low-level discovery, and agent auto registration, each serving its own field.
Network discovery
This function allows to periodically scan the network for external services or Zabbix agents (passive) and take pre-defined actions upon discovery of those.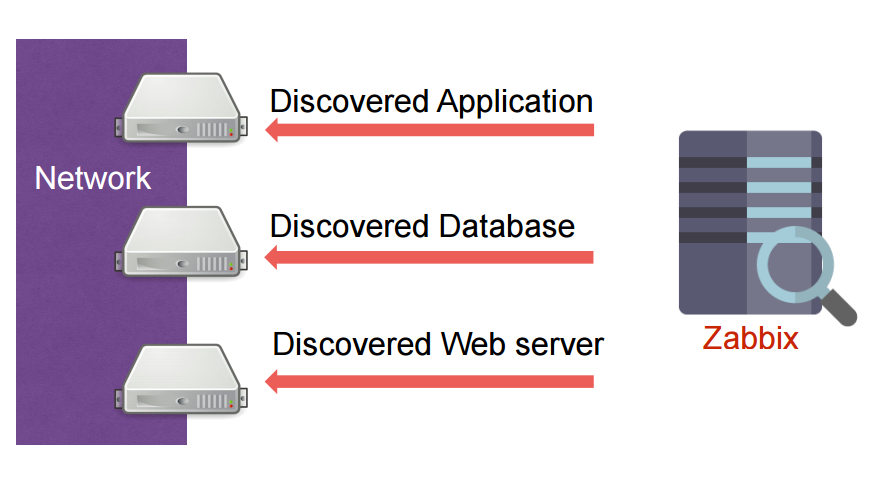 The discovery process starts with running network discovery rules, which rely on the following information:
which IP range to scan;
which external services to look for (FTP, SSH, WEB, POP3, IMAP, TCP, etc.);
information received from a Zabbix agent;
information received from an SNMP agent.
The discovery function then would generate a discovery event, which can be the basis for a relevant, pre-defined action, such as:
Send notification to a user;
Add or remove host;
Enable and disable host;
Add or remove host to a group;
Link or unlink host to a template;
Execute remote script.
The actions can be configured to take into account device type, IP, status, uptime/downtime and other parameters.
Low-level discovery (LLD)
Low-level discovery provides a way to automatically create items, triggers, and graphs for different elements on a device. For instance, Zabbix can automatically start monitoring file systems or network interfaces on a machine, without the need to create items for each file system or network interface manually.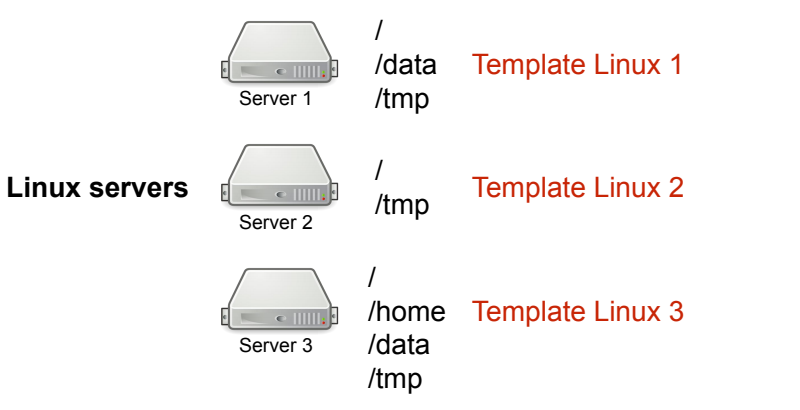 Zabbix supports several types of item discovery:
Discovery of file systems;
Discovery of network interfaces;
Discovery of CPUs and CPU cores;
Discovery of multiple SNMP OIDs;
Discovery using SQL queries;
Discovery of Windows Services.
Moreover, it is possible for users to create completely custom low-level discovery rules, discovering any type of entities - for example, databases on a database server.
Auto-registration of active agent
This function allows a Zabbix server to start monitoring new equipment automatically if this equipment has a Zabbix agent (active) installed. This allows to add new hosts for monitoring without any manual Zabbix server configuration for each individual host. When adding a new server to the monitored environment, it is only necessary to install a Zabbix agent (active) and point it to a Zabbix server.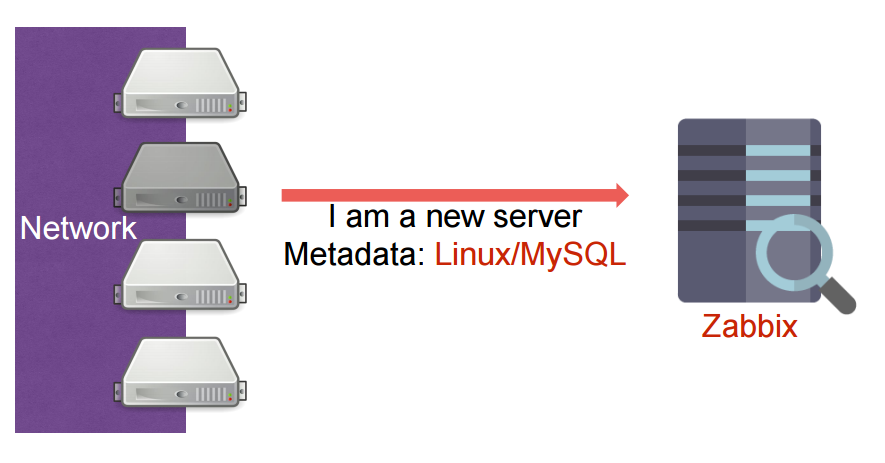 The auto-registration function is very handy for automatic monitoring of new Cloud nodes. As soon as you have a new node in the Cloud, Zabbix will automatically start collecting performance and availability data of that node.