System Management
Support of maintenance periods
The maintenance function can be used for planned maintenance of hosts and host groups. An administrator can set a maintenance period in the Zabbix web frontend in advance. Daily, weekly, or monthly maintenance periods can be specified.
Two modes of maintenance management are supported allowing an administrator to select whether to stop collecting all of the data or suppress only failure notifications, while still collecting data during the maintenance period.
Inventory
Zabbix can maintain host inventory information (e.g., serial number, MAC address, OS, software). It can be useful for infrastructure asset management. This information may also be included into a notification message when reporting issues with a device, thus making a system administrator's task of understanding the cause of the problem and finding a solution easier.
Host inventory fields can also be populated automatically. Special items can gather inventory information and fill an inventory field in the host definition..
Custom scripts to manage hosts
User defined scripts can be executed in the Zabbix web frontend. On the dashboard, in the map and event screens an administrator can execute scripts by clicking a hostname or map icon, and selecting a script from the drop-down list.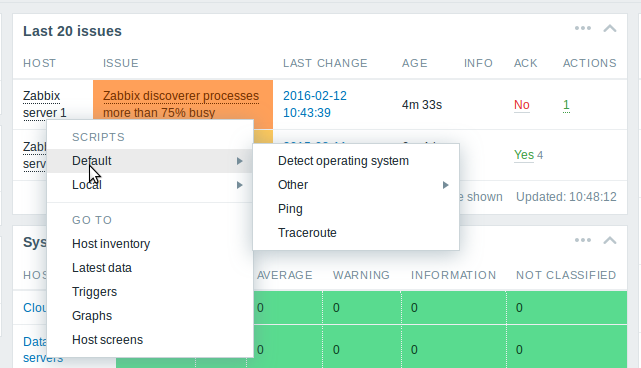 This function is useful for the first reaction to problems in the system. Ping and trace route commands are available by default.