Zabbix is now ISO27001 certified
January 5, 2023
Zabbix receives ISO/IEC 27001:2013 certificate for information security.
Riga, Latvia – The open-source monitoring software company Zabbix receives ISO/IEC 27001:2013 international certificate for information security. This certificate assures that Zabbix protects all its information within the highest internationally acknowledged security standards. This certificate is issued for four Zabbix offices: Zabbix LLC (USA), Zabbix SIA (Latvia), Zabbix Japan LLC (Japan) and Zabbix Servicos de Software LTDA (LATAM Brazil).
Security measures within the company have always been held to a high standard, the certificate serves as official proof of commitment towards prioritizing information security best practices within the organization. Being ISO 27001 certified is a proof that Zabbix prioritizes data security in many areas: holds a high focus on preventing potential risks and vulnerabilities; all Zabbix employees prioritize data security, with internal security checks being held regularly; IT, HR, and information processes are operationally excellent.

"ISO 27001:2013 is an international standard, whose implementation will provide a stable framework for information security management by identifying existing information security risks and by providing the necessary measures to prevent them and to reduce their impact in the future." as stated from "BM certification" – the company that guided Zabbix certification process and issued the certificate.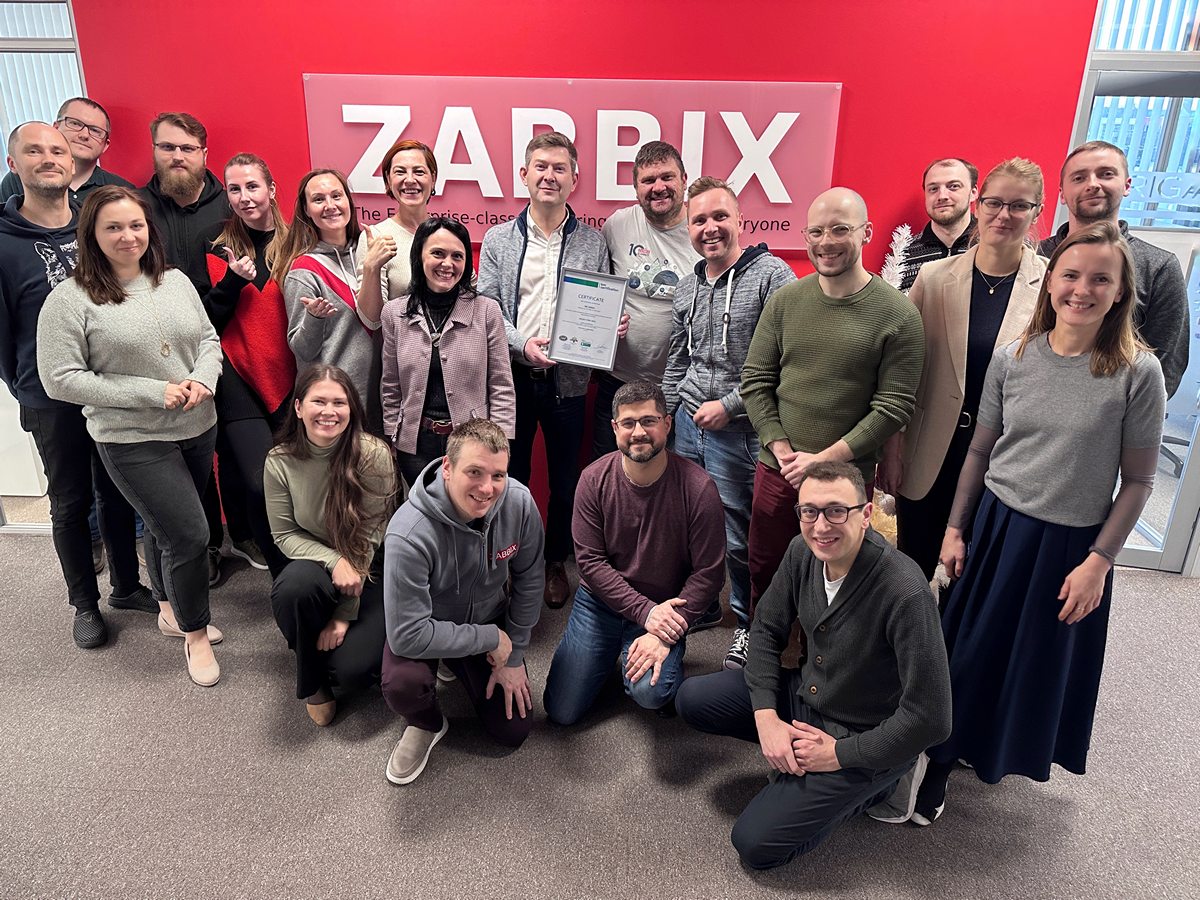 About Zabbix Company
Zabbix LLC is based in Europe, Japan, Latin America, and the United States. Its founder, CEO, and Zabbix product creator is Alexei Vladishev. The core work sphere of Zabbix LLC is the development of open-source software for monitoring the complete technology stack in infrastructures of any size - both on-premises and in the cloud. Apart from that, the company offers a wide range of professional services designed to fit every customer's unique business needs, including implementation, integration, custom development, consulting services, and various training programs. Zabbix team's mission is to make a universal monitoring solution available and affordable for all. The first Zabbix version was released in 2001. Zabbix as a company was established in 2005 with the aim to provide expert technical support services.
There are governmental institutions of different countries along with some of the world's biggest telco, finance, educational, retail, and healthcare companies among Zabbix customers. Many of them are included in the Fortune 500 list. The Zabbix SIA annual turnover in recent years, EUR: 2019: 6.8 million; 2020: 8.8 million (+29.6%); 2021: 11.1 million (+26.7%).
Contacts:
USA: 1-877-4-ZABBIX
Europe: +371-6778-4742
Japan: +81 3-4405-7338
Brazil: +55 11 4210-5104